Achieve Environmental Goals With Engineered Fluids' Coolant Recycling Program
Coolant Recycling Program "Closes the Loop" for customers looking to meet their ESG targets!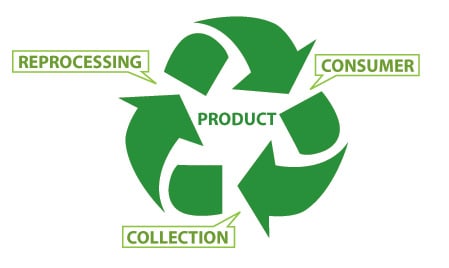 Everyone's under pressure to reduce their environmental impact. Companies now face pressure from their customers, suppliers, and shareholders to show that they are being good stewards of the environment. A corporation's Environmental, Social and Governance (ESG) goals usually include waste reduction, carbon reduction and the support of "Closed-loop, Cradle-to-Grave" material management policies.
At Engineered Fluids, we understand the importance of sustainability and have developed a product collection and recycling program to help our customers meet their environmental goals.
This program allows customers to significantly reduce their carbon footprint and the Global Warming Potential (GWP) of their activities, reducing the resources needed for operations and helping ensure that they meet their ESG goals.
Reduce Your Carbon Footprint With Coolant Recycling
The beauty of Engineered Fluids' coolant recycling program is that it's a win for everyone. By returning used coolants to Engineered Fluids for recycling, customers can lower their environmental liability and ensure that they're in compliance with local regulations. Products that are recycled don't count against the customer's Global Warming Profile or as carbon released by the company's operations. Customers receive a Certificate of Custody for the used coolant.
Engineered Fluids' processing facility has the ability to re-process used dielectric coolants at high pressure and high temperature, removing any chemical or particulate contaminants, ageing byproducts, moisture and other impurities. At the end of the reaction chain, the re-reacted coolant is chemically and functionally identical to new coolant.
Depending on the product's volume, condition and location, used coolants can be collected for recycling into other lubricant or functional products. Engineered Fluids can help with the collection and recycling process, through a network of collection and recycling services.
Recycling used coolants cuts down on waste, both in terms of coolant itself as well as their containers, on product inventory, disposal costs, carbon emissions, and the potential for spills or environmental problems from storing used coolants onsite. Our goal is to make it easy for customers to be environmentally complaint. This comprehensive program is designed to simplify the process of coolant recycling and give customers total control over their product life-cycle.
How Engineered Fluids' Closed Loop Program Works
Here's how the program works: When customers receive their coolant products from Engineered Fluids, along with the necessary Product Safety and Quality information, there is information on the Product Recycling Program. At the end of service life of an Engineered Fluids product, the customer contacts Engineered Fluids' Customer Service Department in St. Petersburg, FL to discuss recycling options. Depending on the customers' needs, Engineered Fluids can assist with product collection and treatment.
Used coolant products that are returned to Engineered Fluids' production facility is re-reacted through the company's state-of-the-art high temp, high pressure reaction processes, restoring it to its original condition while removing hazardous materials and contaminants in compliance with environmental regulations.
In this way, Engineered Fluids makes sure that their customers can achieve their sustainability goals efficiently, reducing waste and ensuring that no hazardous substances are released into the environment.
Become ESG Compliant and Meet Sustainability Targets
Engineered Fluids' coolant recycling program is a closed-loop product return and recycling program that helps you reduce your carbon footprint and achieve their Environmental, Safety and Governmental (ESG) compliance goals.
Here are just a few of the benefits that customers can expect when you take advantage of this sustainable solution:
Receive incentives for reducing emissions and achieving waste reduction milestones: Customers who recycle used coolants are eligible for incentives on international markets that reward companies for reducing carbon emissions.
Achieve sustainability targets: The coolant recycling program makes it easier for customers to meet their sustainability targets by helping them reduce the amount of waste they generate and by lowering carbon emissions.
Lower waste disposal costs: Companies can also save money on waste disposal costs by taking advantage of Engineered Fluids' Recycling Program.
Lower the potential of pollutant discharge: Another key benefit of using Engineered Fluids' coolant recycling program is that it helps decrease the potential of environmental pollution caused by improper disposal or treatment of used coolants.
By taking advantage of Engineered Fluids' coolant recycling program, customers can significantly reduce their carbon footprint, lower their costs associated with waste disposal, and achieve their ESG goals.
Why Choose a Closed Loop System Over Traditional Disposal Methods
Even with the benefits of using a coolant recycling program, other disposal methods often look to be less expensive. After all, disposal methods like landfill and incineration are a lot simpler and cheaper, right?
Not so much. The problem is that the disposal of used coolants via landfill, injection wells or incineration releases the stored carbon into the atmosphere. This significantly raises the product's (and the customer's) Carbon Release Profile and their Corporate Global Warming Potential.
A closed-loop recycling program, on the other hand, allows the customer to conserve carbon credits and lowers their Global Warming Profile. In addition, with a closed-loop system, the customer is able to monitor the entire process from start to finish. This includes:
Fluid Sampling and Testing
Analysis of test results
Fluid collection and offsite storage
Determining the better route: reprocessing or recycling
Providing the customer with a Certificate of Custody
Monitoring the process from start to finish
Testing finished products against Engineered Fluids Quality Characteristics
Packing the Dielectric Coolants into the necessary containers
Shipping them to the Customer
Verifying they were correctly received
Certifying that any reprocessing and disposal was completed in accordance with regulations
Documenting all of this into reports so that a Proof of Compliance exists.
Engineered Fluids' Coolant Recycling Program is an efficient and sustainable way to stay compliant and reduce your environmental footprint.
Getting Started With Engineered Fluids™ Coolant Recycling Program
Getting started with Engineered Fluids™ Coolant Recycling Program is easy! Customers can simply send an email to support@engineeredfluids.com with details about the used product, and we'll do the rest. Engineered Fluids can help with decisions on recycling, sampling, any testing required, and product collection.
The great thing about this program is that it provides an easy way to comply with waste storage and collection regulations. It also eliminates the problems of coolant disposal and reduces waste. Customers simply contact Engineered Fluids with their information and we'll take care of the rest.
Conclusion
By using Engineered Fluids' Closed-Loop Coolant Recycling Program, our customers can reduce costs, reduce uncertainty, reduce liability, achieve their corporate goals, all the while making less of an impact on the environment. It doesn't get much better than that!