Scharf Selects AmpCool for Cutting-Edge Battery Cooling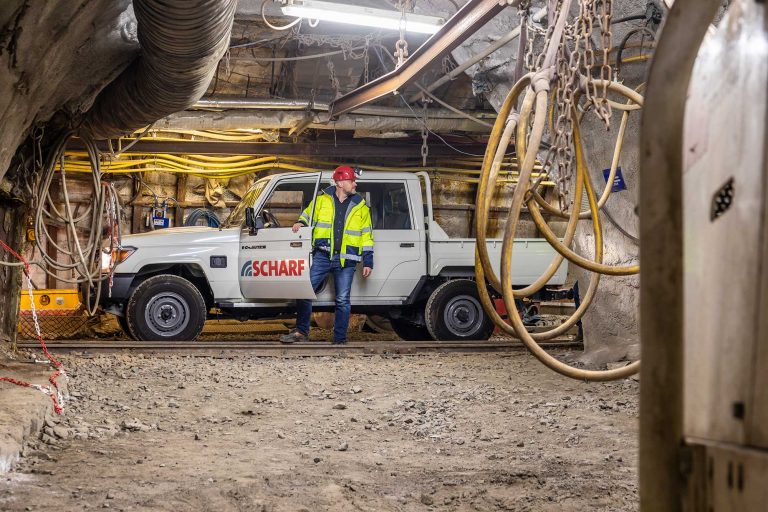 Are you ready to go beyond the status quo and explore the most efficient and effective way to cool your vehicle's batteries? Scharf is taking you there.
The South African company recently started commercial production of its latest line of Electric trucks for the mining industry, using AmpCool© for its advanced battery cooling solution - an exciting step forward in the electric vehicle (EV) industry. When it comes to keeping these massive batteries running, Scharf decided that AmpCool was the ideal solution to meet all of its specific needs.
So what sets AmpCool apart from other cooling solutions? Let's take a closer look at why Scharf chose AmpCool AC-110, how it delivers superior performance, and why it's quickly becoming the go-to choice for battery cooling in EVs.
Scharf is a leading manufacturer of off-road vehicles used in the mining industry, located in Cape Town, South Africa. Their new line of electric trucks needed a battery cooling system that can handle the demanding conditions of the mining environment. After carefully assessing their options, Scharf has decided to go with SLIC (Single-phase Liquid Immersion Cooling) Technology for thermal management, using AmpCool AC-110 Coolant for all its battery cooling needs.
AmpCool Coolants provides cutting-edge technology with superior thermal protection and safety, allowing Scharf to keep its vehicles running at peak performance in even the most extreme conditions. Not only does AmpCool help protect Scharf's vehicles from overheating, but it can also help them save on maintenance costs and extend the life of its battery cells because of the way that AmpCool maintain the batteries in a narrow operating temperature band. Plus, with AmpCool's advanced safety features, Scharf has added an extra margin of safety against battery fires..
The advantages of direct immersion cooling are clear: it provides a more even and consistent cooling performance, while consuming less energy. And in terms of safety, liquid immersion makes sure that if there is an issue with one cell or module, it won't affect the rest of the battery pack.
In short, Scharf has gone with the most cutting-edge battery cooling technology available —innovative liquid immersion—ensuring that their electric vehicles keep running at peak performance for years to come!
AmpCool's Innovative Technology
It should come as no surprise Scharf chose AmpCool for its cutting-edge battery cooling solution—AmpCool offers some impressive features you might not know about.
For starters, AmpCool Coolants are synthetic hydrocarbons specifically made for efficient heat transfer. AmpCool Coolants have an extremely high dielectric strength; they're biodegradable, non-toxic and are fire resistant. AmpCool Coolants have a perfect safety record – there's never been a fire reported involving Ampcool Coolant fluids. .
It makes sense that Scharf chose AmpCool for its cutting-edge battery cooling solution—it simply offers more advantages than traditional cooling solutions.
Why Scharf Decided on AmpCool
So why did Scharf decide on AmpCool for the vehicle battery cooling? The primary factor for Scharf was AmpCool's safety record. In a hazardous application like underground mining, safety is essential.
AmpCool's safety record is outstanding, and it beat out the other competitors in that area. For starters, with over seven years' field experience, there has never been a reported fire involving AmpCool Coolants. In addition, there are multiple studies showing how immersion in AmpCool Coolants can prevent fire propagation from one cell to another in a battery pack.
Overall, it was AmpCool's impressive safety record that sealed the deal for Scharf and made them choose this cutting-edge coolant fluid for their underground mining applications.
Since the AmpCool system is highly efficient, it can be used in a variety of other thermal management applications—allowing Scharf to expand their use of this cutting-edge technology. Not only that, but with its recyclability AmpCool also supports Scharfs commitment to sustainability.
By selecting AmpCool for their battery cooling needs, Scharf is opening up a world of possibilities while providing a long-lasting, cost effective solution to keep their vehicles running smoothly and efficiently.
In conclusion, Scharf and AmpCool are on a mission to revolutionize the automotive industry by creating a cooling system for vehicle batteries that provides unprecedented levels of performance and reliability. With the help of AmpCool's technology, Scharf is able to ensure that its vehicles enjoy the best cooling performance in the market, resulting in greater mobility range and lower maintenance costs. This partnership is a win-win for everyone involved and will hopefully pave the way for new and exciting innovations in the EV industry.